The cFos Power Brain has the following components:
230V relay for switching a 3-phase contactor to release the charging current
optional connection of a DC residual current sensor from Western Automation
RS 485 interface
I2C interface for connection of displays and RFID readers (1)
2 S0 inputs, potential-free (2)
GPIO Pinheader with numerous analog and digital inputs and outputs
230V integrated power supply
(1) Devices must be supported by the cFos Power Brain controller.
(2) The inputs can be controlled potential-free. Voltage approx. 3.3V to at least 24V. The cFos Power Brain can optionally supply 12V voltage for this.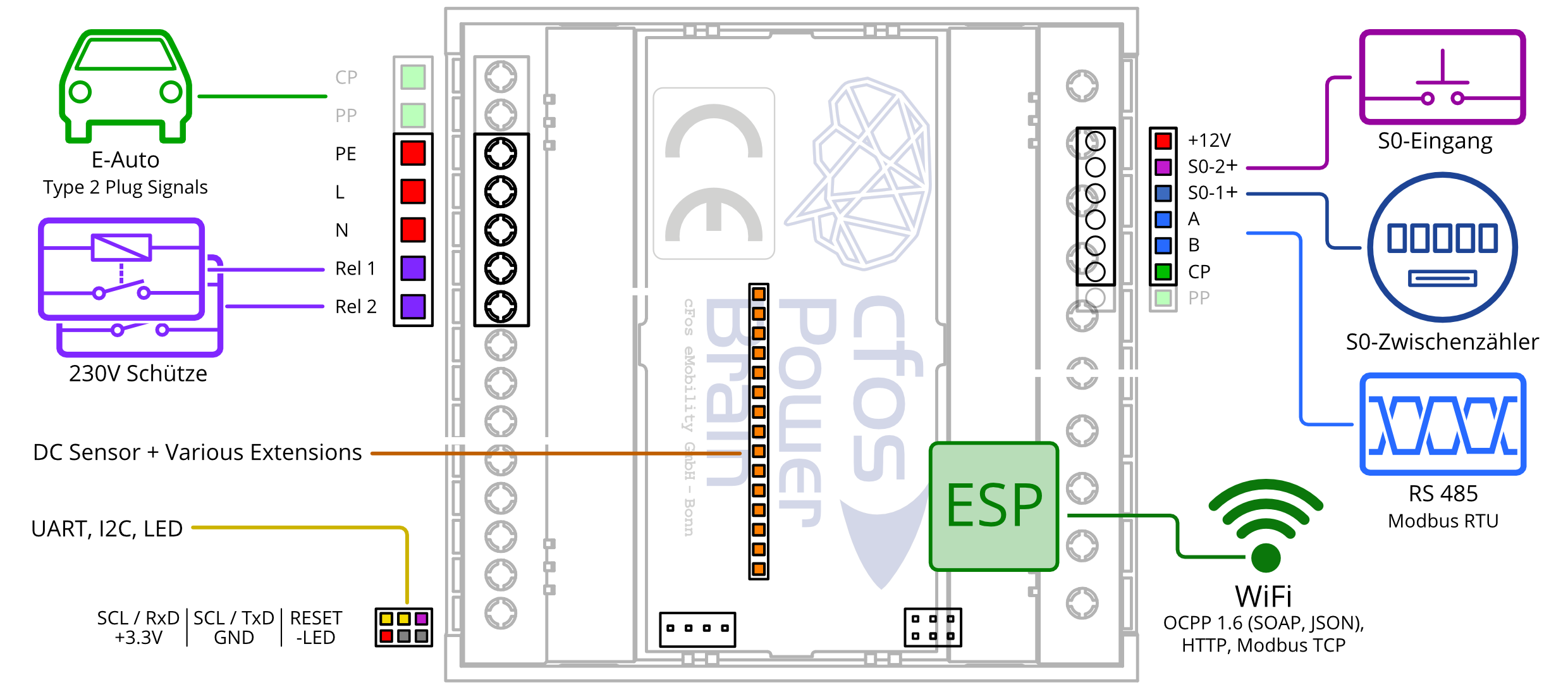 The heart of the cFos Power Brain is an ESP32 from Espressif Systems. This powerful microcontroller enables the cFos Power Brain to speak the following communication protocols:
WiFi 802.11 b/g/n, including full TCP/IP stack
OCPP 1.5 and OCPP 1.6 (SOAP and JSON), both client and backend
HTTP 1.1
Modbus TCP and RTU
You can therefore use cFos Power Brain to build a wallbox that speaks OCPP and Modbus at the same time and can also be controlled via an HTTP API. Such wallboxes can then be easily networked via WiFi
The cFos Power Brain can read meters via Modbus, e.g. the ABB B23 112-100 (but also others according to your needs) or up to two S0 meters via the S0 inputs. This allows the wallbox to be equipped with an intermediate meter for billing purposes at a reasonable price and at the same time optionally read other meters from consumers or generators (solar system)
Of course our own EVSE uses the cFos Power Brain.